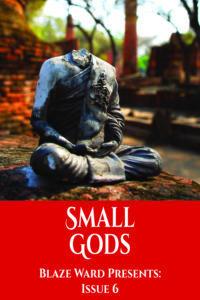 Blaze Ward's "Power" appears in Small Gods, book 6 in the Blaze Ward Presents anthology series.
Excerpt
"What's the catch?" he asked.
There was always a catch. Every hint of magic or power he'd ever encountered had suggested that the limits were often hard and rude. Even for gods, which just suggested to Gunderson from time to time more powerful pantheons, even more remote.
Maybe you eventually got to the Christian God. Or Thoth. Odin. Somebody up there in charge.
Hopefully, they wouldn't bother with a little guy like him.
"The power is bound into an item, Gunderson," she said in a dark tone now. "It gives the holder power over me."
He couldn't help the eyebrow that went up at that.
"And we're going to bring that back into the world?" he asked raggedly.
—from "Power" by Blaze Ward
The Interview
Which god(s) did you write about in your story, and why?
Anacapa, a Goddess of the Chumash Tribe that lived in the Los Angeles basin before the colonists came. It's a Gunderson Case File (#8) so a Hardboiled PI set in 1955 where all things are possible, from historic fantasy to aliens. If you have cash, Gunderson can solve your case.
In this case, I wanted to explore the history of Los Angeles, and how the Spanish colonized Alto California. Unfortunately, it involved getting about as close to a genocide as you could, because the Mission system was set up to destroy all native culture and any natives that refused to convert. One of the stats I saw suggested that by the dawn of the 20th Century, the Chumash had been reduced to less than a few hundred survivors, with a lot of folks that had crossed over. I have wondered if losing the Mexican-American War allowed some of these tribes to survive.
In Gunderson's case, he has to deal with a dead necromancer (not a typo) in order to help a woman from the tribe who wants to save it. And gets tangled up with the goddess herself, quietly helping on the sides because Gunderson will save or destroy her.
All the awesome messiness of a Gunderson case, with him and his take on ethics, which is a recurring theme in my writing.
What are you working on now, and what's fun about what you're writing?
Working on a Space Western series that will come out early next year. Just finished Novella #5 today, with all of them written like episodes of a television show. I drew inspiration from a couple of places, but that's Episode One, then I went off on new tangents. First Readers have had great things to say about it, and I get to write some light and fun stuff, after finishing an epic space opera in the second book in Kincaide's War: Vehicles of Epiphany.
Also working on some thriller/action-adventure stuff for a project next year. Not starting a new pen name, but I've been doing a lot of stuff in that genre and intend to drop it all in Feb 2023.
Tell us about Blaze Ward Presents! How did you come up with the idea of this series, and what do you most enjoy about it?
BWP started out with the above diagram. Moles. I was teasing some folks and one of them suggested we do an anthology based entirely around the idea of moles. He was kidding. I wasn't. Even reminded him a few times, but he chose not to submit (was in a later issue).
And we were off. The goal here is that by doing royalty share, I can pay everybody equally, and accept all manner of stuff instead of just manuscripts. We've had graphic novels. A couple of folks have written musical scores. Art. Poetry.
Whatever can convey the theme.
Originally, they were twice a year, but right now I am doing them in the spring. Submissions will open April 1. Stories due April 30. Published on June 1. Not a lot of time for folks to screw around, but I'm working with pros that think having a whole month to write a story is utter decadence.
We have also started doing occasional special editions in the fall, with an open call for "After The Fall" running right now. (Deadline June 30. Pub Oct 1 so I have more time and folks have had several months to work with. Different cast, usually.)
For me, the best part has been that at least four people have told me that I was their first "professional" publication (in quotes because we're not paying pro rates, but I treat them like professionals and hopefully train them how to act like it with the next editor.
And there have been some utterly amazing stories. I got three in Small Gods that would be contenders for awards, except that fantasy requires pro rates to quality. Grant, Jones, and Broughton all knocked it out of the park.

Anything you'd like to share with the readers, promotional or otherwise?
Blaze Ward Presents – Weird
Boundary Shock Quarterly – Science Fiction
Mystery, Crime, and Mayhem – Mystery
Cutter's Final Cut – Themed
About Blaze Ward
Blaze Ward writes science fiction in the Alexandria Station universe (Jessica Keller, The Science Officer, The Story Road, etc.) as well as several other science fiction universes, such as Star Dragon, the Dominion, and more. He occasionally writes odd bits of high fantasy with swords and orcs. In addition, he is the Editor and Publisher of Boundary Shock Quarterly Magazine. You can find out more at his website www.blazeward.com, as well as Facebook, Goodreads, and other places.
Blaze's works are available as ebooks, paper, and audio, and can be found at a variety of online vendors (Kobo, Amazon, and others). His newsletter comes out twice a month (Publishing newsletter and Anti-Stodgy/Redneck Chef newsletter), and you can also follow his blog on his website. He really enjoys interacting with fans, and looks forward to any and all questions—even ones about his books!
Find Blaze Ward
Website ~ Facebook ~ Goodreads ~ Patreon ~ Amazon ~ Blaze Ward Presents
Find Small Gods
Apple Books ~ Amazon ~ Kobo ~ Barnes & Noble ~ PubShare ~ Universal Book Link