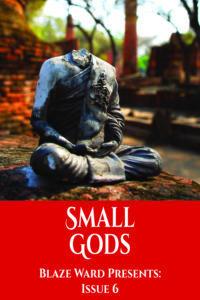 M. L. Buchman's "The 3D God" appears in Small Gods, book 6 in the Blaze Ward Presents anthology series.
Excerpt
A dozen people were scattered about the room chatting quietly. The only other sounds were Joan Baez playing over a set of speakers so shot with age that even though I knew the tune by heart—one of Mom's favorites—I couldn't understand a word, and the heavy thud of stoneware steins against the wooden tables.
It might have been a wax museum for the sheer variety of the patrons. One belonged in Wall Street watering hole, the next in a Bronx dive. There were hipsters, working men, a mafia guy who really should be in an Italian restaurant, and six foot of voluptuous redhead who was amazingly hard not to stare at.
"Are they all—" I hadn't actually asked Max if he was a superhero. After all my searching I didn't want to break the illusion. I'd made it clear what I was looking for and why I'd come to him, without quite, well, saying what I'd been looking for or why I had come to him.
"Yeah kid, the small gods of New York City," he waved a hand as he shed his slicker and hung it on a peg against the wall.
I'd been looking for the superheroes but after two years, I'd take the small gods.
—from "The 3D God" by M. L. Buchman
The Interview
Which god(s) did you write about in your story, and why?
"The 3D God" was actually a challenge story. First someone foolishly asked what my own personal superpower was. One of the things I'm very good at is visualizing three-dimensional space. The result of this skill is that I've spent an inordinate number of hours helping friends fit too much stuff into too small vans and cars for moving. I eventually went on to apply this skill in traveling theater shows, moving businesses (never as a job, I just kept ending up in places that were going through significant change), house design, and even packing suitcases.
Then came the challenge. Write a story about your superpower. Well…crap! Superhero stories have never been one of my skills, they've stumped me in numerous anthology calls. But I do have a Deities Anonymous series (www.mlbuchman.com/deities-anonymous) that is all about the powers of gods from Yahweh and the Devil Incarnate to Buddha, Shiva, and the least angel (It's an active series, just presently taking a nap, an extended nap, between titles.)
However, I still lacked a good idea for the story. After flailing around for far too long—there was a deadline involved—I sent my character on a chill, rain-soaked quest to discover his superpower. That's when it all, so to speak, fit together.
What are you working on now, and what's fun about what you're writing?
My primary series at this point is my Miranda Chase political technothrillers (www.miranda-chase.com). She's an autistic airplane-crash investigator for the NTSB (National Transportation Safety Board). Because of her unique mental processes, she is utterly brilliant at solving crash causes yet equally hopeless at understanding people and political pressures.
This is where her team steps in. One is brilliant about people, another is very physical, and another joins later who has a high emotional intelligence. Rather than dividing tasks across a team, it's more as if I've divided Miranda's brain across a team—except each segment has its own personality. This high-stakes thrillers are being hugely fun to write and a big fan favorite.
So fun, that I turned it into a game. The Great Chase is a spin-off from the books and just released at the end of May after a year of work and then another year surviving Chinese censorship (I had the game printed overseas.)
I'm also hoping to start up a new military war dog romantic suspense series in the fall that will continue to expand my 42-book / 70-story Emily Beale Universe.
You're a quilter! What's your latest project?
My latest project is a pile of fabric and some messy sketches. And this has been sitting stagnant for well over a year due to my other projects, including the Miranda Chase game. It is based on the principle that life comes in seven-year cycles. The pattern of our lives often shift on roughly that timing, mine certainly has. Fifteen or so years ago, I was talking to a monk about this concept and he told me there was also a twenty-one-year cycle. Having just crossed into my mid-sixties, I'm surprised at how accurate that statement was, my life is undergoing another major shift—all good, but very different emotionally and in how I think.
Perhaps it's no surprise, what with being a writer, that all of my quilting projects have a deeper story behind them. My most recent completed quilt is called "Core to the Stars" (see the picture below). The unknowable hidden core (of our planet or ourselves), climbs through gray stone, brown earth, green crust, blue water, foliage in four seasons as the year progresses clockwise, to the pale blue sky and finally the stars beyond. Hidden in the four corners, black quilt stitching against the dark sky, are four of my favorite constellations, one for each season (I used to run the college planetarium).
It is both where we live and the internal journey we make. All, except the dreaming stars of limitless possibility, are held within the winding border of the never-ending seasons represented by the leaf colors. The pattern has many names, but the Star of Bethlehem and Amish Star are the two I know best.

Anything you'd like to share with the readers, promotional or otherwise?
For eight years I have given away a free short story every month (available to anyone to read for one week on my website). They range across five genres, or maybe six or seven. There are numerous series but stand-alones as well. Sign up for my newsletter to never miss one: https://www.mlbuchman.com
About M. L. Buchman
Bestselling author M.L. Buchman started the first of over 70 novels and 100 short stories (along with an ever-growing pile of audiobooks narrated by the author) while flying from South Korea to ride across the Australian Outback. All part of an around-the-world bicycle trip (a mid-life crisis on wheels) that ultimately launched his writing career. His true loves are military romantic suspense and political technothrillers; with contemporary romance, fantasy, and SF all vying for third place.
M. L. has designed and built houses, flown and jumped out of airplanes, and consulted to the Fortune 100. He is constantly amazed at what can be done with a degree in geophysics.
Find M. L. Buchman
Website ~ Facebook ~ Twitter ~ Goodreads ~ BookBub ~ Amazon
Find Small Gods
Apple Books ~ Amazon ~ Kobo ~ Barnes & Noble ~ PubShare ~ Universal Book Link