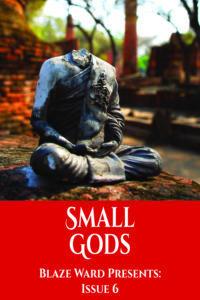 Mary Jo Rabe's "The Gods of the Black Forest" appears in Small Gods, book 6 in the Blaze Ward Presents anthology series.
Excerpt
Dobel, the disgruntled god of the Hohfelsendobelbach brook had had enough. He might only be a minor god, but he didn't have to endure every unpleasantness his environment had to offer. The water in his brookbed splashed angrily over its banks.
Without giving it another thought, he gurgled a lament to his colleagues. All of them were minor gods residing in the streams flowing down from the steep mountains of the southern Black Forest into the Dreisam River in Freiburg and from there onward to the Rhine River.
They existed as individual gods in the brooks but also occasionally joined together in a meditation cloud above the brooks to increase their combined powers. Here tired gods could absorb the extra energy the others had available. In this meditative cloud state they were sheltered from the distractions of the mortal world.
They all took their individual power from the energy in the moving water, the fragrant air blowing around the trees, and the pressure the rocks and boulders exerted on each other on both sides of the narrow gorge called the "Höllental".
However, today even the bright sun sending down welcome, sharp shadows into the narrow gorge couldn't improve Dobel's mood. He was mad.
—from "The Gods of the Black Forest" by Mary Jo Rabe
The Interview
Which god(s) did you write about in your story, and why?
I live in Neustadt, right in the middle of the Black Forest of Germany. Freiburg, a university town with many similarities to Madison, Wisconsin, its sister city, is on the western edge. To get from Freiburg to Neustadt up through the narrow Höllental (Hell Valley) with high mountains on each side, you can either take the Höllental train or drive through the crowded, mostly two-lane, occasionally three-lane, B31 federal highway, also infamous/notorious as the "Madrid-Moscow Express" due to its intense truck traffic. My "gods" are the minor deities living in the many brooks and streams that flow down the mountains of the Black Forest through the Höllental along the B31 to the Dreisam River in Freiburg.
What are you working on now, and what's fun about what you're writing?
I'm still writing mostly short stories with occasional poems. What's fun is seeing a crazy idea in some science report and then wondering if I could make a story out of it.
You grew up in the U.S., and have lived in Germany for a very long time. How has this impacted your writing?
I grew up on a farm in eastern Iowa and went to school in a small town (then 450 inhabitants, now about 200) where the 1960's for all practical purposes didn't take place. There was a smooth transition from the 1950's to the 1970's. The firm belief there was that things weren't great, but would always stay the same. School was infuriating. Girls had to wear dresses/skirts with blouses, and were only allowed to wear slacks under their dresses during cold winter days but had to remove them as soon as they got into the building. The home ec teacher constantly warned that girls who wore tops with polka-dots along with striped skirts would be considered low class, etc. The superintendent of a neighboring school proudly proclaimed that if he had to eliminate chemistry or basketball due to financial constraints, he wouldn't hesitate to eliminate chemistry because the whole community benefited from basketball games while chemistry was only of interest to a few eggheads who would go off to college and never return.
I fled to college at Michigan State in East Lansing, Michigan, and participated in their Junior Year in Freiburg program (at the age of 20, back in 1971) where I met Franz. I returned to MSU to finish my degree in German and math, then, thanks to the kindness of strangers (a long story), managed to get a job in the chancery office archives for a year while Franz completed enough courses to apply for and receive a Fulbright scholarship to the U.S. We got married in Sabula, Iowa, in 1974 and went to the University of Wisconsin-Milwaukee where I got my library science degree and Franz a masters in geography.
We returned to Freiburg in 1976. In the meantime, my old boss in the archives, who turned out to be the greatest boss ever, was charged with starting a library there, and he got me a job (another long story). I stayed at this library, first called the chancery office library and then the archdiocesan library, until December of 2016 when I retired, overjoyed that I could hand over my users to my extremely capable and conscientious successor who had been my student help in the library for the previous six years.
In 1980 we moved to Neustadt when Franz completed his degree in English and geography at the University of Freiburg and got a teaching job in Donaueschingen. Neustadt was exactly halfway between Freiburg and Donaueschingen. "Donau" is the German name for the Danube, and Donaueschingen claims to be where the Danube begins. (It is actually the location of the confluence of two rivers, the Brigach and the Breg which then flow together to form the Danube).
I discovered my love of science fiction in Milwaukee but didn't really start writing until 2001. Fortunately, I started reading the blogs of Kristine Kathryn Rusch and Dean Wesley Smith around 2009 which helped me deal with my (still strong) imposter syndrome.
Naturally, people often ask me to compare living in the U.S. and in Germany. The only honest answer continues to be "On the one hand, on the other hand …" My experience has been that living for a long time in a foreign country makes you skeptical about the way things "have to be". Actually, there are always options, other possibilities. Successful societies where people live good lives tend to be flexible. Both Germany and the United States could use more flexibility, though in varying areas.
What impacted and impacts my writing the most are the people I have met and the settings I have experienced in the past 71 years. I have had the privilege of getting to know so many good and kind people throughout the years. Their numbers make the assholes easier to endure.

Anything you'd like to share with the readers, promotional or otherwise?
Kate Wilhelm's book, Storyteller, musings about the Clarion workshops, was comforting for me. She wrote that there were two kinds of writers, storytellers and wordsmiths, and that Clarion tried to help both. I realize that it is better to be a storyteller, but deep down, at the level of unconscious instinct, I tend to be a wordsmith. So, I keep working on my storytelling skills.
I tend to write mostly science fiction, since that's what I love to read, with occasional fantasy and historical fiction. So far I have let other people (kind editors of magazines, anthologies) do the hard work of publishing my stories, which are generally, but not always, feel-good, with happy endings. My feeling is that if you want to think about depressing things, you can watch the news. I happen to like fiction that is upbeat and entertaining, but of course everyone else's preferences will vary.
About Mary Jo Rabe
Mary Jo Rabe grew up on a farm in eastern Iowa, got degrees from Michigan State University and the University of Wisconsin-Milwaukee where she became a science fiction writer and fan. She worked in the library of the Archdiocese of Freiburg, Germany, for 41 years and retired to Titisee-Neustadt, Germany.
Find Mary Jo Rabe
Website ~ Facebook ~ Goodreads ~ BookBub ~ Amazon
Find Small Gods
Apple Books ~ Amazon ~ Kobo ~ Barnes & Noble ~ PubShare ~ Universal Book Link