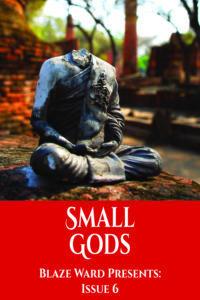 Erynn Lehtonen's "Nekomata's Curse" appears in Small Gods, book 6 in the Blaze Ward Presents anthology series.
Excerpt
My feline friends, I am the reason the humans revile you. I am who they kick when their boots meet your slender ribs; I am who they starve when they throw you poisoned fish masked by gestures of kindness.
You are convenient to them now, preying on the mice who chew away at their grain, staving off pestilence in exchange for the comfort of a warm home. But trust me, the moment they pick you from your litter, they are calculating how many years you will be more of a benefit to their home than a risk. They will take every opportunity to remind you who has the power in your relationship. Warn you not to trust them.
And yet you will, because do we not all crave affection by nature?
They simply do not wish you to turn into me.
—from "Nekomata's Curse" by Erynn Lehtonen
The Interview
Which god(s) did you write about in your story, and why?
My contribution to Small Gods was a story about the nekomata, a mischievous cat spirit from Japanese folklore. I love these creatures because they're a sinister evolution of a regular cat with freaky powers based on the strange things real cats can do or are known for. I chose to write about the nekomata because the idea has been nagging me for a few months now and this was a perfect opportunity to get this story out there. Since all of the books I've written so far are based some way around Japanese mythology or folklore, Nekomata's Curse is really an extension of the rest of my work.
What are you working on now, and what's fun about what you're writing?
I'm working on a book titled Pool of Memories and Serpents, a novella that takes place in the same universe as Nekomata's Curse. There's no intersection between the stories besides the general location, but the cool thing about Pool of Memories and Serpents is that it has even more dark spirits out of Japanese folklore and explores some interesting themes around magic, mental health, and the dark path from hero to anti-hero. Plus, there are dragons, so that's a win in my books.
Tell us about your Yokai Calling series!
Yokai Calling is currently my primary body of work, an epic fantasy tale that's 4-books long (plus a follow-up novella) following three young adults as they navigate a dangerous world filled with magic, mythological creatures, war, and of course, more dark spirits. The tale begins with a mystery involving disappearing women and the dark sorcerer that's been taking them for a nefarious purpose. The main characters, Hidekazu and Masanori, belong to a noble family and a long line of warriors and mages, but have been forbidden from participating in their lineage. However, once they get involved in unravelling the mystery, their best friend is taken and they have no choice but to go against their parents' teachings and embrace their warrior legacy.
Only when they do, they find that there are far more sinister implications surrounding the sorcerer's arrival and his victims.
Like my other stories, the series is all about Japanese myth and folklore, but this series is jam-packed with intrigue, action, and magic!

Anything you'd like to share with the readers, promotional or otherwise?
If you like Nekomata's Curse, I'm sure you'll also like my other stories! Interested readers can get a prequel short story for the Yokai Calling series by signing up for my newsletter: https://erynnlehtonenwriting.com/newsletter
About Erynn Lehtonen
One day, Erynn's army of fluffy minions will take over the world. But, well, she hasn't had any luck animating stuffed animals yet! Ever since graduating with her degree in creative writing from the University of British Columbia, you can usually find her typing away at her next fantasy novel like her life depends on it (it does). Other times, she's locked inside a book, be that reading about dragons, mythology, folklore, or daydreaming in another fantasy world. She also entertains a "mild" tea obsession and guards her hoard like any bookdragon would.
It's her goal to introduce readers to the complexities of mental illness through the perspectives of lifelike characters in fantasy worlds.
Find Erynn Lehtonen
Website ~ Facebook ~ Instagram ~ Goodreads ~ Patreon ~ Amazon
Find Small Gods
Apple Books ~ Amazon ~ Kobo ~ Barnes & Noble ~ PubShare ~ Universal Book Link