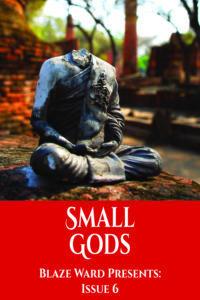 Kari Kilgore's "The Garden of Eden and Emily" appears in Small Gods, book 6 in the Blaze Ward Presents anthology series.
Excerpt
Emily turned and somehow managed to keep her jaw from dropping.
The goddess was indeed standing there, with the same eyebrow-raised smile curving her full mouth. Before Emily forced herself to concentrate on huge dark eyes, she took in the incredible painting that only enhanced the masterpiece of smooth skin.
If she hadn't seen two people at work with brushes only a few minutes ago, she would have been certain the vivid colors and shapes had grown naturally, an organic tattoo, rising up and out on their own. Creating a tropical wonderland of flowers and vines that spilled down past the woman's shoulder and across her breasts and ribs and belly before trailing along her thighs.
Emily would have happily sworn the pink and yellow and red flowers nodded in an exotic breeze heavy with their fragrance, and the purple and blue and white berries glistened with entirely real dew drops.
—from "The Garden of Eden and Emily" by Kari Kilgore
The Interview
Which god(s) did you write about in your story, and why?
This story took root years ago on a trip to Key West, and yes, my friends and I did venture up to the rooftop clothing-optional bar. For the record, none of us were brave enough to participate!
But I saw a woman on the dance floor who'd just come out of the body paint booth, and my first thought was how she looked and moved like a goddess. Such joy and confidence, and what seemed to me like a primeval, earth-based power. So in my case, I wrote about what an encounter with the goddess she embodied could bring into an ordinary life. Perhaps not a big enough goddess to affect the whole city or even everyone on that roof, but wow, one-on-one she's quite a powerhouse.
What are you working on now, and what's fun about what you're writing?
I'm finishing up a revenge novella inspired by my years working in Information Technology back in the 1990s, when women weren't common, and sadly too often not welcome. I've got a fun cast of over-the-top, bigger-than-life characters to play with, for one thing. And I'm having an absolute blast getting even with some of the more unsavory real-life characters I met back then. The form of the revenge is turning out to be entirely different than I expected, too.
Tell us about the most memorable time when you surprised yourself with your own writing.
This has happened to me with characters and dialog and plot since I wrote my first novel, and I'm always delighted! I don't outline or plan ahead, so I'm constantly surprised by what happens next.
But I'd have to say the biggest surprise was a few years ago when I had a chance to submit a story for a winter holiday anthology. I'd never written a holiday story, but I decided to take a chance and go for a big one with Christmas Eve. I then went for humor, which I didn't often do then. To make things stranger, I aimed for a romance short story, even though, again, I'd never written romance. And to top it all off, I focused the whole thing on one of our cats.
Yes, something else brand new for me.
Not only did I have a great time writing "The Magic Cat of the Hidden Springs Inn and Spa," but the story actually sold, and it's been reprinted twice. I've written a lot of holiday, romance, and pet stories since, but managing to pull off all three at once and have readers enjoy it was a wonderful surprise. That experience certainly taught me to be brave and take chances, and most importantly, have fun with writing.

Anything you'd like to share with the readers, promotional or otherwise?
A great way for readers to check out my short fiction and doorways into my longer work and series is with short story collections. Facing Down Extraordinary: A Series of Ordinary Heroes, Fantastic Side Trips: Side Characters Take Center Stage, A Tapestry of Holiday Tales: Winter Adventures from the Odds and Endings Bookstore, and the upcoming Spies of the Imagination all offer peeks into larger worlds.
About Kari Kilgore
Kari Kilgore started her first published novel Until Death in Transylvania, Romania, and finished it in Room 217 at the Stanley Hotel in Estes Park, Colorado, where a rather famous creepy tale about a hotel sparked into life. That's just one example of how real world inspiration drives her fiction.
Her professional short story sales include Fiction River, holiday anthologies with Kristine Kathryn Rusch, and Sylvia Magazine. Her short fiction is regularly featured in Mystery, Crime, and Mayhem Magazine, and she's delighted to be part of the Uncollected Anthology.
Kari writes first and figures out the story's genre later. That's resulted in fantasy, science fiction, romance, contemporary fiction, and everything in between. She's happiest when she surprises herself. She lives at the end of a long dirt road in the middle of the woods with her husband Jason A. Adams, various house critters, and wildlife they're better off not knowing more about.
Find Kari Kilgore
Website ~ Facebook ~ Twitter ~ Goodreads ~ BookBub ~ Amazon
Find Small Gods
Apple Books ~ Amazon ~ Kobo ~ Barnes & Noble ~ PubShare ~ Universal Book Link